The originators and inovators of extrusion technology since 1933.
AMERICAN EXTRUSION INTERNATIONAL
World Leaders in Snack Food and Cereal Systems
Fry Type Extruders > Model 350F Rotary Head Extruder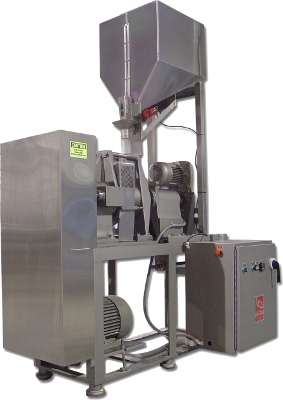 Video Clip shows our 350F in action!
American Extrusion International
Product #:
EXTR-350F
Request Quote
350F ROTARY HEAD SNACK EXTRUDER

Gelatinization of moisturized starchy ingredients takes place inside a concentric cavity between two brass plates, one rotary with 3 blades (fingers) plus grooves, and the other one with grooves only. The action of these blades on the rotating head creates the necessary condition of pressure and heat to achieve gelatinization of the raw materials at approximately 260°F (127°C). Expansion and forming of the product occurs in a narrow gap between the two plates (usually referred to as rotor and stator). Blades affixed to a circular knife support ring mounted on the outer edge of the rotor cuts to the desired size. Moisture, feed screw speed and type of brass used for the extruder heads control the expansion and texture of the product.
Benefits: Gravity food hopper with vibrator for easy metered flow of raw materials, quiet direct drive, speed control of feed screw via Inverter. Motors are efficient inverter duty, inverter supplied with extruder. Manual head gap controlled by mechanical ratchet. Table slides back via hand crank for easy access to extruder component.
Construction: Painted mild steel, 3" tubular frame, mild steel painted belt guard, stainless steel hopper, stainless steel guard at product discharge, painted castings.
350F TECHNICAL SPECIFICATIONS
Product Capacity Raw (Corn Curl): 280 lbs/hr | 130 kgs/hr
Total Energy Consumption: 17.2 KW
Horse Power Main Drive: 20 HP
Every machine American Extrusion sells is backed by our legendary commitment to quality and customer support. If you're new to the industry, we can provide you with a 100% turn-key service that includes recipes, training, and more. To request a quotation, just click on the button below or call Rick Warner, Director of Sales, today at +1 (815) 624-6616 USA.
Other Rotary Head Extruders:
850F Rotary Head Extruder | Super Capacity Rotary Head Extruder