The originators and inovators of extrusion technology since 1933.
AMERICAN EXTRUSION INTERNATIONAL
World Leaders in Snack Food and Cereal Systems
Equipment > Linear Fryers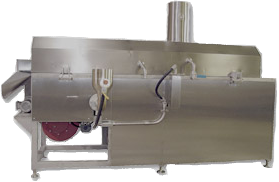 LINEAR MULTI PURPOSE FRYER
Benefits: Linear Fryers are designed to efficiently fry both buoyant (pellets, pasta and extruded matter) and non-buoyant products (nuts, lentils). These fryers are constructed of high grade stainless steel, with available stainless steel interconnections and valves. State of the art filtration systems are used to ensure proper removal of fines in order to give the maximum life to your cooking oils. The most commonly used systems are filter baskets which can filter down to .5 micron. The other common system employed are fines removal drums which mechanically separate the oil, literally lifting fine particles out of the cooking oil.
Sanitation is a critical consideration in our designs. We have available screw jack lift systems to allow easy access under conveyors and hoods as well as spray balls and clean in place systems. The frying systems are controlled panels which can have either push button or PLC controls depending on customer preference and budget. The PLC Touch screens are typically Mitsubishi or Allen Bradley, however, we can make others to suit customer requests.
The design of the fryers are such that the minimum amount of oil is utilized to cook the products. This allows fresh oil to be continuously added to the system giving a fresh taste and long shelf life to your products. Capacities range from 150 kg/hr up to 2 tons of product per hour.
Every machine American Extrusion sells is backed by our legendary commitment to quality and customer support. If you're new to the industry, we can provide you with a 100% turn-key service that includes recipes, training, and more. To request a quotation, just click on the button below or call Rick Warner, Director of Sales, today at +1 (815) 624-6616 USA.

Also see our Rotary Fryer.

Extruders in our umatched line:
Advantage 100 | Advantage 50 | Advantage 40 | Advantage 30 | Classic Series