The originators and innovators of extrusion technology since 1933.
AMERICAN EXTRUSION INTERNATIONAL
World Leaders in Snack Food and Cereal Systems
Product Categories > Pillow Cutting System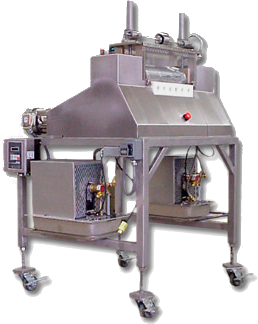 Our system produce snacks with sweet or savory flavors.
The Pillow Cutting System is compatible with the Advantage 50 and Advantage 100 Extruders
PILLOW CUTTING SYSTEM
Our innovative Pillow Cutter, Co-Extrusion Die and a positive displacement pump is all that is needed to create a cream filled extruded snack product with our Advantage Series Extrusion System. Fillings may include sweet or savory flavors. As many as four shapes may be made at the same time, including triangles, squares, peanuts, hearts and/or bars. The Pillow Cutter roller is designed to create as little waste as possible. The production line uses our Advantage Series extruders, such as the Advantage 50.
Every machine American Extrusion sells is backed by our legendary commitment to quality and customer support. If you're new to the industry, we can provide you with a 100% turn-key service that includes recipes, training, and more. To request a quotation, just click on the button below or call Rick Warner, Director of Sales, today at +1 (815) 624-6616 USA.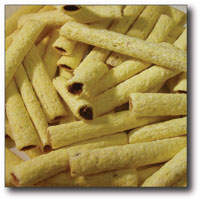 Other Snack and Cereal Production Line Configurations
Standard Direct Expansion | Chip Cutting System | Reel Cutting | Cereal | Fry Type Extrusion | Extruded Bread